It is the rainiest summer in West Virginia!  I got my yard weed-whacked today, just before the rain came.  Sigh.
So with another rainy weekend looming, here are some fun July Fourth activities for the whole (indoor) holiday!
Make Some Indoor Fireworks
Grab some of your favorite paint recipes, or check the website for some of my fave recipes, and make some indoor fireworks.
Method One:
Get red and blue paint
White Paper
Seven plastic straws per child
Tape, rubber bands or string
Put the paper on the table.  Place paper plates or margarine tub lids out to hold paint.  Put the seven straws in a bundle, and fold back the tops to create an L shape with each straw.  Bundle the straws to look like a fireworks, and then tape them together.
Let children dip the straws into the paint and then stamp their straws onto the paper.
Fun idea:  Add Glitter!
Method Two:
Get Red, white, and blue chalks
Get BLACK paper
water in cups for the chalk
Dip the chalk into water, and then scribble onto the black paper.  Simple idea, but check out the dramatic results:
Method 3:
Red, White and Blue paint
any color paper (white is in the pic, but try other colors, too!)
kitchen forks
bowls, margarine tub lids, or wide cups for the paint.
Dip the fork tines into the paint and rub onto the paper to make your own fireworks:
OR-
Make your own fireworks – in a Jar!
Get a mason jar or recycling jar out of your bin
Water – fill jar about 3/4 full
Mix 2 tablespoons of cooking oil with about 8 drops of different food colors.  Drip the food colors about the oil, and then let your kiddos mix the colors and oil together.
Gently tilt the oil into the water.  The colors drop out of the oil and mix together!  Water fireworks!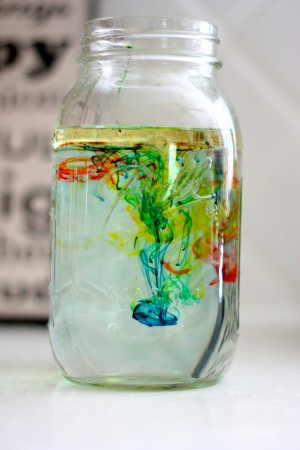 Fireworks in a water bottle!
Use red, white, and blue pipe cleaners.
Use glitter or confetti, or star confetti if you have them!
water
Scrunch the pip cleaners into spiral shapes.
Add to bottle with confetti….
Pour water into the bottle and put the lid on (or hot glue the lid on if using inside!)
Fireworks in a bottle!
Water Balloon Fireworks
Red, White and Blue Water Balloons
NON-TOXIC glow sticks
water
Let the kids light up the glowsticks.  Fold them gently into a roundish shape, and gently pull the water balloons over them.  If the glowstick breaks, it is NON-TOXIC, so no worries.  After the stick is in the balloon, add water!
Voila!
And finally:
Fireworks Bubble Tubs
Fill a bucket, pan, pot, or even the bathtub with water and dish soap. Add Red and Blue food coloring (or Kool Aid), and stir it up!  BUBBLES!  Colors!  Fireworks in a tub.
I hope these ideas help everyone in the WHOLE Families community have a wonderful, safe, and rainy Fourth of July!  I'll cross my fingers for fireworks and parades…. 🙂