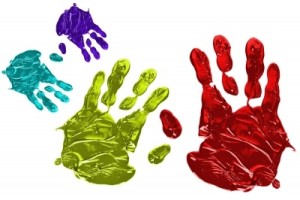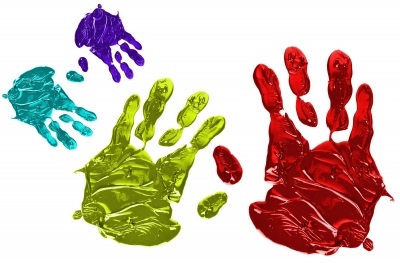 All of these recipes are edible!  Make them at home and save money, have safe craft supplies, and whip up something soothing and fun when your kids need to de-stress!
Stove Top Play Dough
1 cup flour
1 cup salt
1 cup water
1 Tablespoon cooking oil
1 teaspoon cream of tartar (available in the baking aisle)
optional:  edible paint or food coloring; tumeric makes yellow for a natural color; blueberry juice makes a redish/purple.
Stir the dry ingredients together in a heavy pan.  Add water, and stir over medium heat.  When the mix starts to thicken and stick together, scrape to the bottom until the whole mix is heated through!  Yes, your toddlers can help with this!  Then turn out the sticky dough onto a flat surface and knead when it is cool enough to touch.  Keep dough in a baggie in the fridge for up to two weeks.
Gluten-Free Play Dough
1/2 cup white rice flour
1/2 cup corn starch
1/2 cup salt
2 teaspoons cream of tartar
1 teaspoon cooking oil
food coloring if desired (for natural colors try turmeric and blueberry juice!)
1 cup water
Cook over medium heat until the mix thickens; then knead on a table until it reaches good play dough consistency!  Store in plastic bags in the fridge.
Kool-Aid Play Dough
1 cup flour
1/4 cup salt
1 packet Kool Aid
2/3 cup water, boiling
1 Tablespoon oil.
Boil water.  Mix dry ingredients together, add water a little at a time until sticky and ready to knead.  (Depending on the humidity, may not need the whole 2/3 cup of water, so add slowly!)
No Cook Salt Dough (for those days when you need it in a hurry!)
2 cups flour
1 cup salt
1 Tablespoon cooking oil
1/2 – a cup cold water
Optional:  edible paint or food coloring
Mix dry ingredients and add water slowly.  Mix to desired consistency.  Store in fridge.
Peanut Butter Play Dough
1 18 ouze jar peanut butter
6 tablespoons of honey
3/4 cup non-fat dry milk.
Mix all ingredients until dough is desired consistency (for sensitive kids, make the dough fairly dry).  Play!  Eat!  Store leftovers (if any) in the fridge.
For a dairy free version omit the milk and add oats.
Super Fast Play Dough
One container Pillsbury (or cheaper) instant biscuit dough.
Open container.  Play.  Cook.  Eat.
Optional:  add raisins, olives, cheese, chopped hot dogs, fruit bits, chocolate chips, peanut butter, tomato sauce, pepperoni…  anything you can imagine and that is fun to eat.  Use toothpicks and straws for decorating.
Paint Recipes
Cheap Watercolors
Mix food coloring with water in small cups.
Options:  freeze the paint and paint with ice cubes; mix in snow or ice cubes; add glitter; mix with glue instead of water for a different texture.
Homemade Paint (gluten free!)
1 cup water
1 cup cornstarch
food coloring
Mix.  Paint.  Paint with hands, feet, dried flowers, weeds, kitchen utensils, plastic toys with wheels to make tracks, the bottoms of soda bottles for flower prints, q-tips.
Options:  add glitter, glue, sand or sparkles for a different texture.
Homemade Chalk
One and 1/2 cup of plaster of paris
3/4 cup water
food coloring
pour into old paper towel or toilet paper rolls and let dry.
Slime (another gluten free!)
One part cornstarch to one part water
Food coloring if desired.
super messy, so try outside or in the bath tub!